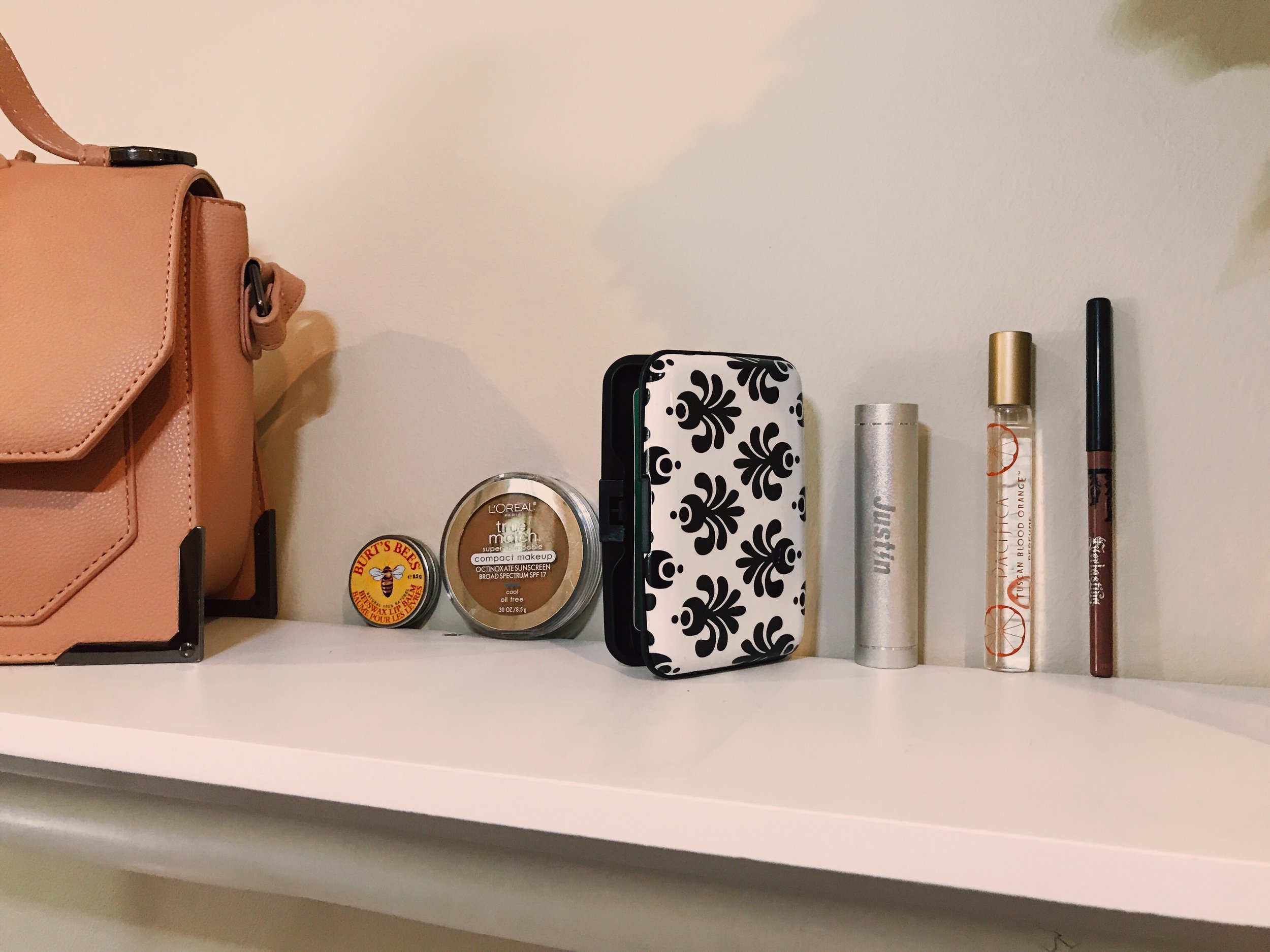 What's in my Purse?
The following are my top six purse essentials.
Hello! This is just a quick post of items that I normally keep in my purse that I have found useful! The first two items are Burt's Bee's lip balm and L'Oréal true match compact makeup. We all have experienced dry lips, and I can not stand being somewhere without a lip balm. Lipstick/Lip glosses don't really help moisturize my lips; so having a lip balm or some sort of chap stick is crucial. The next product is also important if you wear makeup. I have normal to oily skin, so having a makeup compact to touch up my 'T Zone' (forehead, nose, & chin) throughout the day is a life savor! Because who wants to look oily? Not me. Be sure to look for a makeup compact that has SPF. Even if you have a medium to dark skin tone, SPF is key to protect your skin.
The next four items are a aluminum RFID blocking card case, portable phone charger, Pacifica roll on perfume, and Kat Von D lip liner. The card case is new for me. It has RFID (Radio Frequency Identification) blocking capabilities, which will protect your cards from illegal scanning devices. Yes, there are people that have scanning devices that can walk next to you and simply get your information. My mother gifted me this for Christmas. But hey, it never hurts to have extra protection for your debit/credit cards.
Next up, portable charger for my mobile phone. Most Walgreens or CVSs' will carry a standard portable charger (the brand I have is "Justin") at a reasonable price. I usually have a cord in my car that goes with this charger, so I use the cord and hook it up to this charger. My battery is usually always low so this definitely comes in handy! The next product is a roll-on perfume by Pacifica. I picked this up at Ulta, and I chose the scent Tuscan Blood Orange. This brand is also vegan friendly. I prefer to carry roll-on perfume because I have to worry about it leaking in my purse, opposed to a spray on one.
Last, but definitely not least, is the Kat Von D everlasting lip liner I received complimentary from Influenster (FTC Disclaimer). For my light makeup days, all I need is a neutral lip liner and lip balm. The liner goes on very smooth and leaves a matte finish. Everlasting? YES. It did not smudge once I put a lip balm or gloss on top.