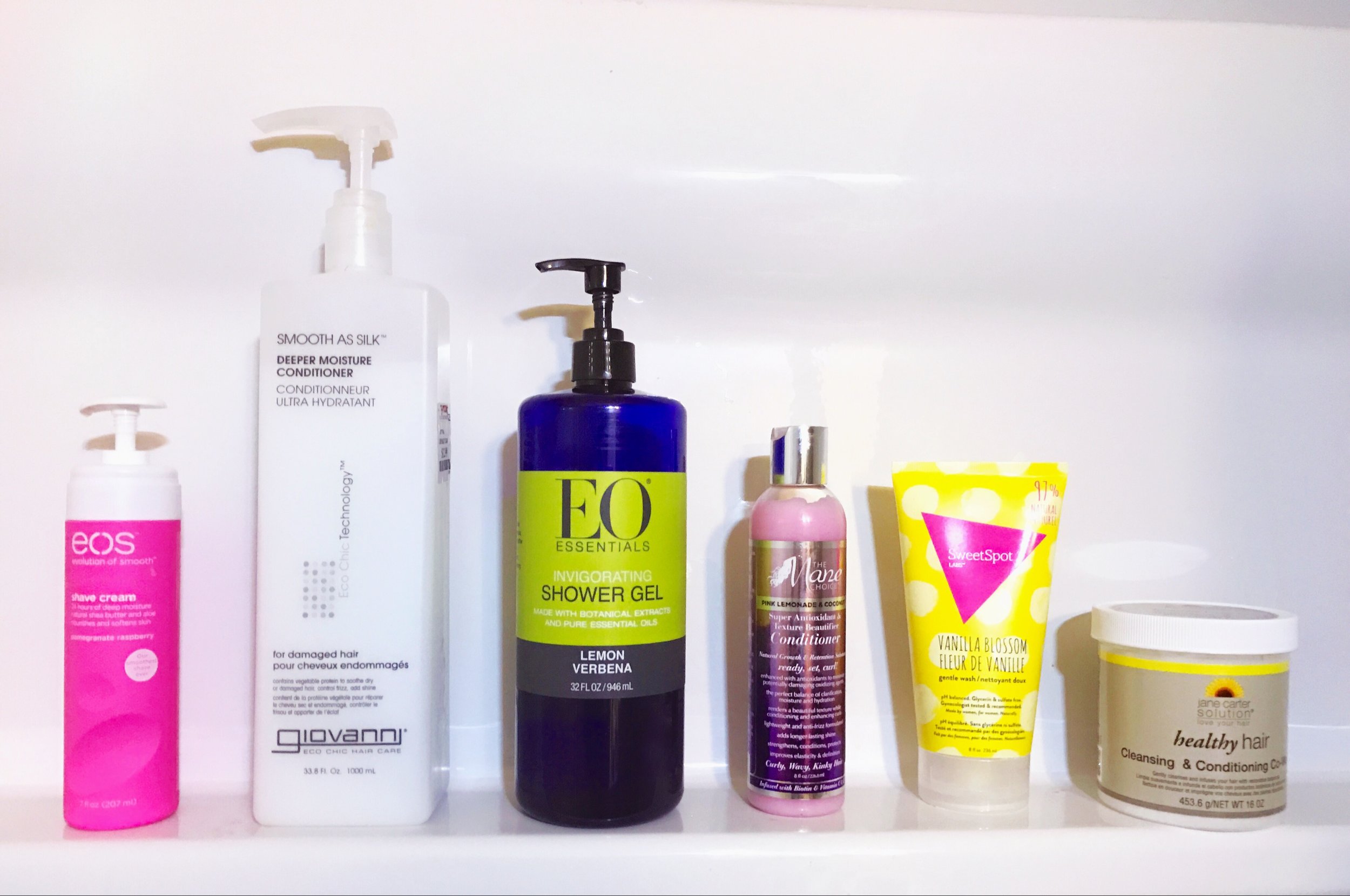 First step when I get in the shower is to lather up with this vegan friendly shower gel by EO Essentials. It has a very nice fresh lemon scent. It does not leave my skin dry like most shower gels I have used. It also lathers up pretty good for an all natural product. The only con is that it is hard to locate in stores if you don't live next to a TJMAXX or Target. This huge bottle ran me about $10.99 at TJMAXX
Given the title, I'm pretty sure you can guess what this is used for. This one is for my ladies that are looking for a natural feminine wash without the harsh ingredients. This brand is made by women, for women. I picked mine up in Target, and it works lovely! $9-$11 range.
This is my first product by Jane Carter Solutions. So far so good! I apply this is sections while I'm in the shower (I do sections because my hair is very thick/dense). I let it sit about 3 minutes and then rinse. Since this is a cleansing conditioner, my curls are left super moisturized. It also gets the gel from my wash and go's out of my hair. The only con about this product, is that I wish it came in a pump bottle instead of a jar. I really dislike dipping my hands in products....especially in the shower. $11 range.
I have been using this brand for about a year now. I have the original line shampoo & conditioner. They recently released this new line called 'Pink Lemonade & Coconut.' And OMG, the conditioner left my hair very defined! I'm not a big fan of coconut oil, but this product is the exception. I did find myself having to use a lot of product for my hair -since it is thick. Also, this line is on the pricey side.... $15 for 8 oz of product. I know, I know....but it is worth it!
Giovanni Deeper Moisture Conditioner. I've been using Giovanni for a few years now. Also a vegan brand. This is easily a favorite for people with naturally curly hair. I picked up this big bottle at TJMAXX for $12.99. I leave it on my hair for about 30 minutes, then rinse with cool water (cool water closes the hair cuticles, thus sealing in moisture). I really don't have any cons for this product!
I'm sure you have heard of the EOS brand. You know those little easter egg shaped lip balms? Well they also make other products, like shaving cream. This shave cream is packed with shea butter & grape seed extracts. This scent I've been using is raspberry pomegranate. I'm glad it comes in comfortable pump bottle instead of the aerosol can bottles. The packaging is very pleasing to the eye - so shout out to the marketing team. No cons as of now. This product runs about $4.
pacifica body butter
Pacifica Natural Bodycare is a vegan friendly brand! I actually came across this brand by a beauty guru on #YouTube by the name of SunKissAlba (who is also vegan & uses allnatural brands). The scent that I've stuck with is Tuscan Blood Orange. This body butter has notes of red raspberry and Italian mandarins. It is very moisturizing and the smell does linger all day. I also have the roll on perfume, but using this body butter alone provides enough scent to last throughout the day. I have been using this brand for about a year now. Highly recommend! Especially if you opt for all natural products.
bare minerals serum foundation
I know what you're thinking..."Serum as a foundation?!" Yes, it is a serum. Sort of. I picked this up at #Ulta after being matched by one the consultants. You only need one-two drops of this stuff- no, seriously! I have normal-to-oily skin. So wearing this foundation does not always go well with my skin type. It can make my face appear VERY oily/greasy if I do not set it with a powder. But I do recommend this product to a dry-to-normal skin type. I use this occasionally....but it is not my first pick.
Shea moisture products
So, I ran out of my Alba facial scrub. I decided to give Shea Moisture a chance since I LOVE their hair products. I picked up the African Black Soap Facial Scrub at #Target. I applied it in the shower (applying face products in the shower is very beneficial since the steam opens up your pores) and rinsed with warm water. My skin instantly felt soft! Not too keen on the smell, but the smell fades. I followed up with a toner and moisturizer. I've been using it for about a month....so far, so good. Up next, is the Curl Enhancing Smoothie-also by Shea Moisture.
I have been using the smoothie for about three months. First off, I did not like it! But, I found out I was not using it right. It works best for me on slightly damp hair for a moisturizer. The smell is heavenly- and it does linger!