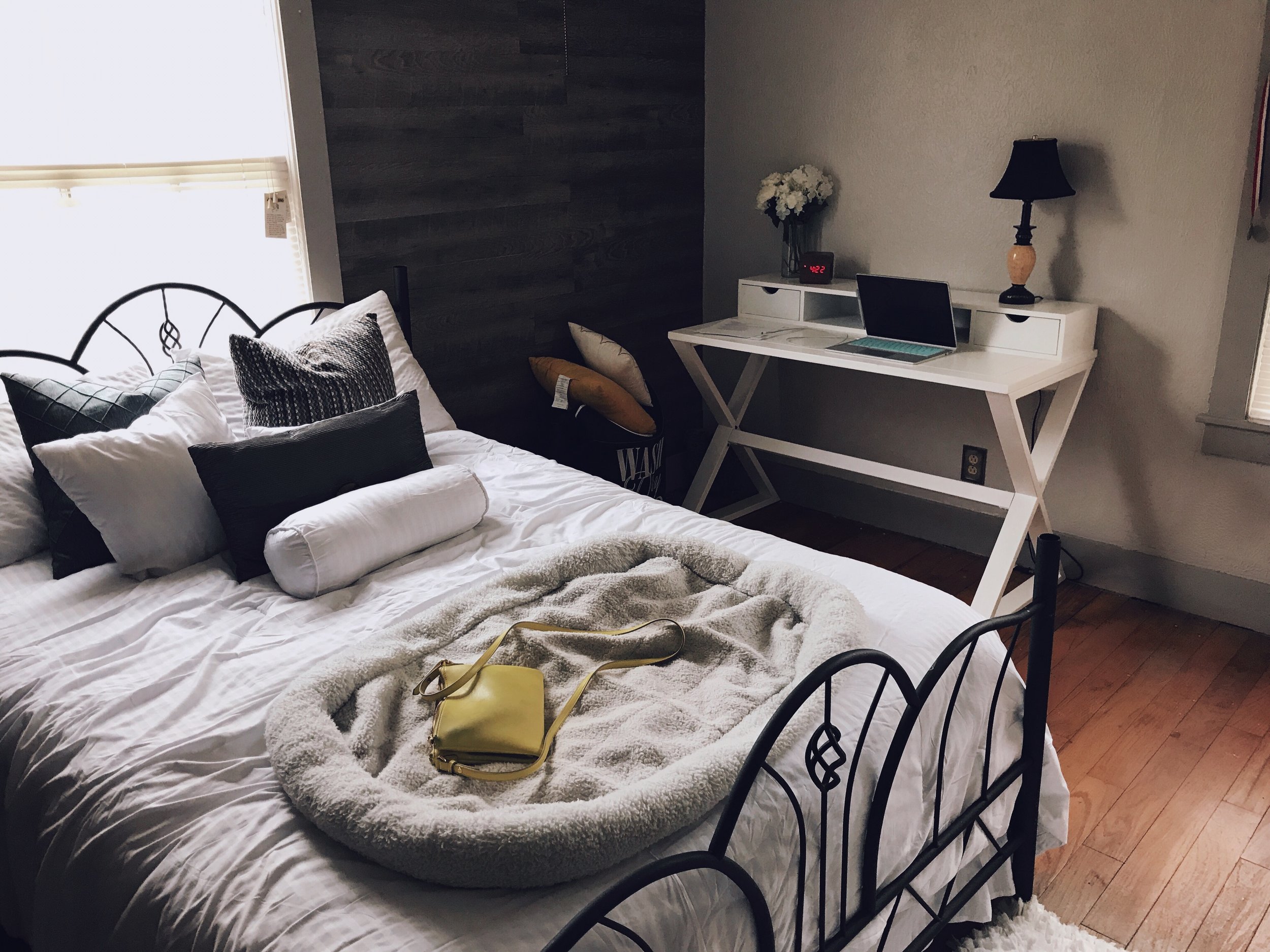 Helloooo! It's been awhile since my last post... I was busy with my room makeover! I'm in the process of moving out of my apartment and back to my parents house while I finish out college. I told my mother I wanted to completely redo my room. While I'm still not completely finished, the bulk of the project is done.
So, lets take it from the beginning.
These are pictures after I stripped the wallpaper and removed all the furniture. There was only wallpaper on one wall & the other three walls are painted. I didn't take many pictures with all of the other miscellaneous things (my mom would kill me) that filled up my room. My room turned into the 'storage room' for everything my parents weren't using at the time. And honestly, I did not plan to blog about this. But after all my hard work, I had to let you all know!
The wall with the wallpaper had so much leftover adhesive, that it would be a chore to spackle and peel off the residue. The idea to cover it back up with wallpaper dawned on me....then I thought "I can put tile on the wall!" So I researched/pinterest the idea and found some inspiration. I decided I wanted a wood design tile for the walls. I went the vinyl peel & stick tilesfor easy application (my parents were away on a trip, so I had to do majority of the work myself). I went to Lowes and picked out a vinyl tile design called 'Driftwood' and some all purpose flooring adhesive. The store associate recommend I get the adhesive since I was putting the tile over leftover wallpaper, and not a floor.
These are the results of the wall tile! It's something different but unique. Also, it's a great accent for a wall (instead of wallpaper). After I picked out the tile, I chose a light gray (Alpaca) for the walls, and a dark gray (Fountain Gray) for the trim. I didn't want to go with a white trim because I wanted a white bedding and a white desk.
The first four images, all accessories were bought from Michaels!
The pillows and laundry basket are from Tuesday Morning.
White desk is from Hobby Lobby.